postcards with stills from the movie "Casino Royale", sent in 2015 arrived in 2016, edition of 32.
in the movie "Casino Royale" (2006), the film hero James Bond visits Montenegro and the hotel Splendid for gambling. nevertheless, none of the scenes in this film is not actually filmed in Montenegro.
Crna Gora is in the most foreign languages officially translated to Montenegro is another name for Crna Gora (in Montenegrin language) a name of latin origin, non-slavic name that allows the country to lose its geographical connection with the region. as for its name, but also because of the geographical size and population, Montenegro is gaining the mystical characteristics of an exotic location – a wherever place of 'wild beauty'.
I selected four film-stills that are depicting Montenegro to make postcards. these postcards I have sent from Montenegro (city in Brazil) to Montenegro (country). after half a year, most of them reached the address.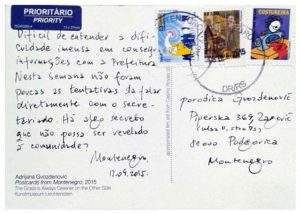 the text is transcribed from daily-newspapers of Montenegro RS.